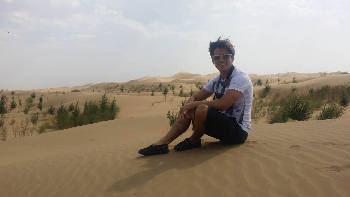 The author Rafael Valdez.
IT was the first time José Manuel Barroso had seen a desert. The former president of the European Commission admitted that he didn't expect to see any color other than yellow or brown. But when he arrived at the Kubuqi Desert, he saw more green than yellow.
Barroso was in Inner Mongolia Autonomous Region on the occasion of the Fifth Kubuqi International Desert Forum. The former prime minister of Portugal commented that Kubuqi was the answer to the desertification problem, which plagues many countries. "Desertification is not only an environmental issue, but also relates to society, economy, politics, and security," Barroso said. "In Europe, we are deeply troubled by illegal immigrants who have fled North Africa because of serious desertification."
He added that the model of combating desertification in China reflects sincere cooperation between enterprises, the government, and international organizations. "The model should be popularized across the world," Barroso concluded.
Thanks to Elion Resources Group, the desert is awash with green. The story began 27 years ago when the company planted its first tree in the desert. To date, it has transformed more than 6,000 sq km of desert into oasis, and confined desertification to 11,000 sq km, benefiting over 100,000 farmers and herdsmen. Meanwhile, the measures against desertification have alleviated the problem of sand storms hitting nearby cities and provinces such as Beijing, Tianjin, and Hebei. Elion Chairman Wang Wenbiao declared, "We have changed the color of the desert through technological means and unremitting effort."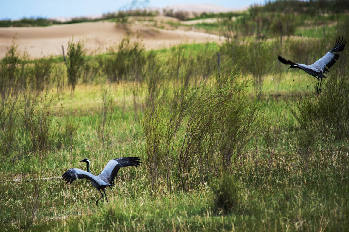 Cranes come to roost at one of the Kubuqi oases.
The company's achievements have been recognized internationally. In 2012, Wang was awarded the "Environment and Development Award" by the United Nations Environment Program (UNEP). This award is usually given to entrepreneurs who have made outstanding contributions to environment-friendly projects.
Wang and other participants at the forum expressed their desire to share the Kubuqi experience with other countries, especially those along the new Silk Road. This is a promise China has made to the world.
Chinese Vice Premier Wang Yang, who attended the forum, also affirmed the idea of collaboration. He said a shield had been set up in northern China to combat desertification, so as to improve the environment and promote socio-economic development in the area. He stressed that transnational collaboration should be strengthened, especially along the Silk Road Economic Belt and the 21st Century Maritime Silk Road – known as the Belt and Road Initiative – to jointly construct a green Silk Road.